Water Treatment, made easier.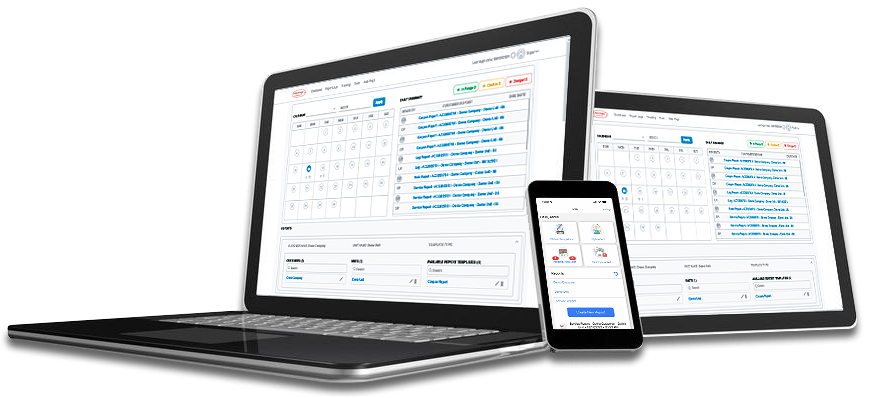 Frequently Asked Questions
Thanks for your interest in MyTechReports. We've compiled a list of commonly asked questions below. If you still have a question, please click the CONTACT US button at the bottom and complete the form.
Q: What is MyTechReports?
A: MyTechReports: (MTR) is a cloud-based service reporting and data management software tool for general industries such as water treatment, food & beverage, cleaning & sanitation, metalworking fluids, oil and gas, wastewater, production-process monitoring, pharmaceutical, and power generation industries. MTR is a software as a service (SaaS), and we charge per month per employee user. Your clients and operators at plants may utilize the system for free, providing valuable process data alerting and processing in one centralized location.
Q: Do you offer a FREE version of MyTechReports?
A: Yes, we do! Although we heavily restrict what you can and cannot do within MTR if you utilize the free account. To get started, complete the DEMO REQUEST form and submit it. We will reach out to set up a demo, showing you how to utilize MTR. Once the demo is complete we'll turn over the account to you.

Note: Free accounts will only have the ability to add 3 customer accounts, 1 unit per customer, and 1 report at a time. W1 Employee/Admin, and up to 3 Operators and 3 Clients total.
Q: How much does the subscription version of MyTechReports cost?
A: MTR pricing is straightforward. We charge $85.00 per employee user per month. Employee users are listed as admins or employees within MTR. Operators and Clients are free. You may provide your own custom URL, or we can purchase it for you.
Q: Can I allow my end-users and clients access?
A: Yes. Your end-users may access the site and mobile app free of charge with your subscription. You'll need to add users to one of two categories:

Operators: Are able to write reports via the mobile app or the website, view charts & graphs, view and download previous reports, download or view MSDS / Safety Sheets for products, download training material, view linked training videos, and download data. Operators are restricted to viewing only one customer and may not be assigned a testing schedule.
Clients: Are able to access the website as 'read only' to view charts and graphs, view and download previous reports, download or view MSDS / Safety Sheets for products, download training material, view linked training videos, and download data. Clients are restricted to viewing only one customer.

Q: Who owns my data?
A: You own your data, period. We only own the platform and its attributes. The data you generate is yours. Our promise is this: We will never use your data as a way to keep your business. If you decide MTR isn't right for you, we'll happily render all your report data into CSV files for you. No questions asked
Q: Do you offer any discounts?
A: Yes, we offer discounts if you have more than 10 employee users. Click the Contact Us button at the bottom of the page for more information.
Q: Do you offer a mobile app?
A: Yes. Our mobile app is titled 'MTR: Water Treatment Reporting' and is available 100% free for Android and iOS. The MTR mobile app is geared toward your field service team, maintenance teams, and plant-process employees, collecting and uploading report data easily and efficiently. Rest assured knowing no major changes or updates can be made to your account from the mobile app.
Q: How long does setup take? Do you offer a turn-key setup service?
A: Setup depends upon how many accounts you are adding to MTR. We can help you determine this during the demo phase. On average you should be able to add 20-30 accounts per hour. This depends heavily upon how detailed your account setup is. The process can be quick if you want it to be.

We do offer turn-key setup services. Our pricing is $500.00 per 100 accounts you would like set up. If you have more than 100 accounts, please reach out to us for a quote.
Q: Do you offer one on one training or group training?
A: Yes! We utilize online meetings like GoToMeeting, Teams, or Zoom to train you and your team. We never charge for online training. If you physically would like one of our trainers on-site with your team, please click Contact Us at the bottom of this page for a quote.
Q: Is my account secure?
A: All MTR accounts are protected by industrial-grade firewalls, connection logic, and 2-Factor Authentication to keep your account data safe and secure. You may require your users' passwords to be forced to change on schedules. We require that all admins and managers be adequately educated by our staff on how to add or remove users as needed. This is part of our onboarding process and training.
Q: Will you add my customers, users, tests, and panels for me?
A: We'll help guide you as you set up everything you'll need during our onboarding process. We're more than happy to teach you how to use the system. But you have to do the work. IF you would rather us complete the setup for you, we charge $500 per 100 accounts set up.